Nil Plaque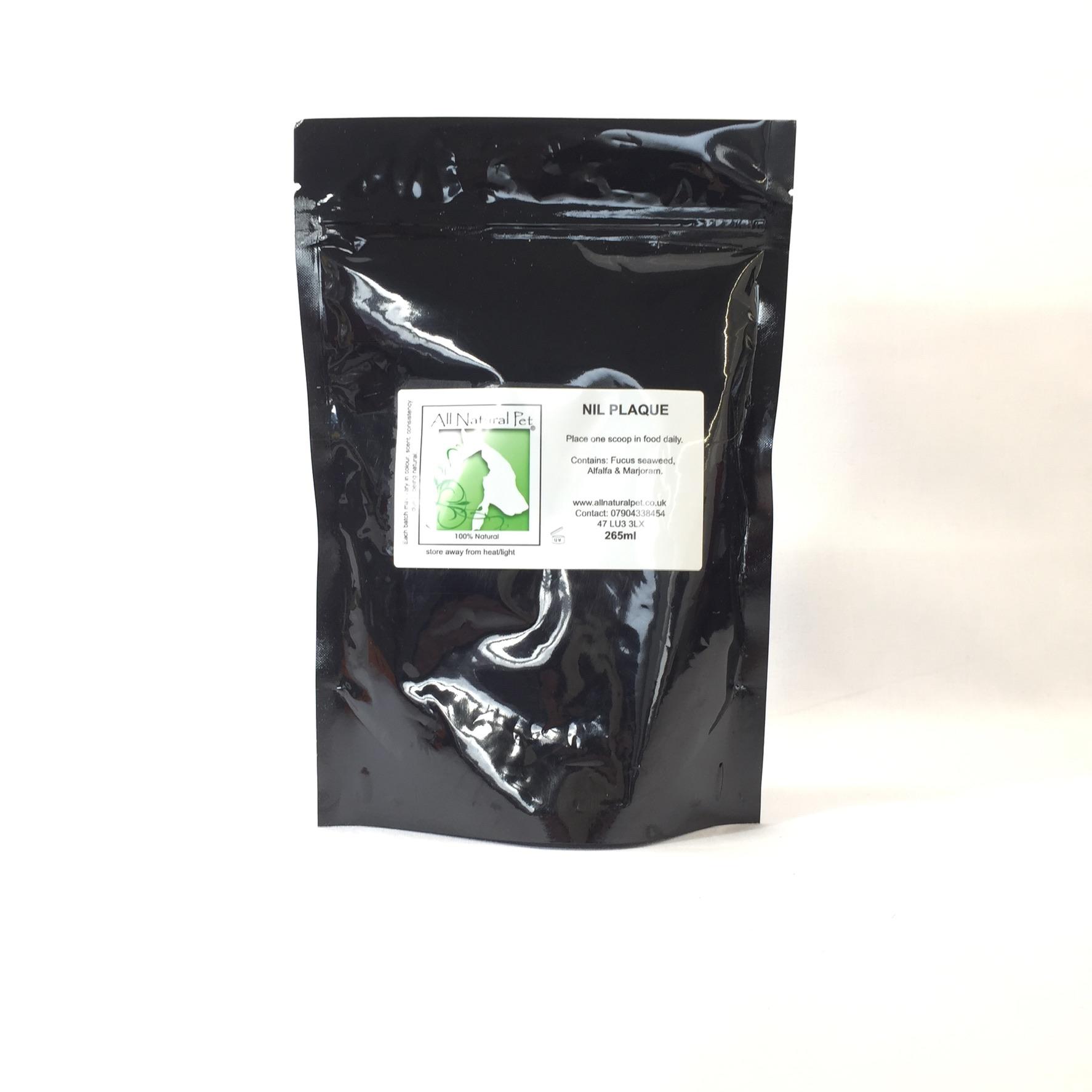 NIL PLAQUE
Instructions for use- Add 1 scoop (1ml) to  food daily. powders are measured in volume.
This helps to minimise the acid in the saliva which forms plaque on the teeth, the plaque slowly lifts away over time which will help to freshen up the breath, 
Contains- Fucus seaweed, alfalfa & marjoram.
jane o' connell
Helped my 14 yr old lab & 5 yr old pugalier. My lab had (ashamed to say) a build up & it loosened it & able to scrape off.
Catriona McMillan
I use this on our 4 year old dog who has 'perfect teeth' according to the vet. We rescued a second dog 4 weeks ago who's teeth aren't in such good condition but we're using the Nil Plaque and have been able to scrape off some of the plaque already.
T Raven
Have been using this Nil Pkaque since my dog had his teeth cleaned & there has been no further plaque, his teeth are beautifully clean & the vet says it's going a great job. I wouldn't be without it
Doreen Porter
Great product, have been using this for two years now, and has helped tremendously with my boy's teeth and the tartar build up.
Helen Hasdell
Used on my elderly dog as she had a lot of plaque on her bottom teeth. I was a bit sceptical at first as I wondered if it'd really work. After about 6 weeks I could really notice the difference, it had nearly all gone and her breath smelt a lot better too. This stuff works miracles.
Sharon Greenwood
I use it on my dogs. Helps stop build up of plaque. Recommend for regular use ❤x
Emma
Worked great alongside the tooth cleaning gel! Two dogs with great looking teeth!
Saz
Great stuff my 3 dogs mouths smell sweeter
Alison Piearce
Just ordering our second pack. Brilliant stuff, the dogs have it sprinkled on their meals once a day and even fussy eaters like it, and there is a definite improvement in dental health.
Alison Rendell
Use this on my 3 pupsters after our older one had to have dental treatment to remove tartar. No sign of it returning, the youngest one has perfect teeth - the middle one had developed some tartar so this is work in progress but definitely improving - don't expect overnight results, it does depend on the level of tartar