Anal Gland Powders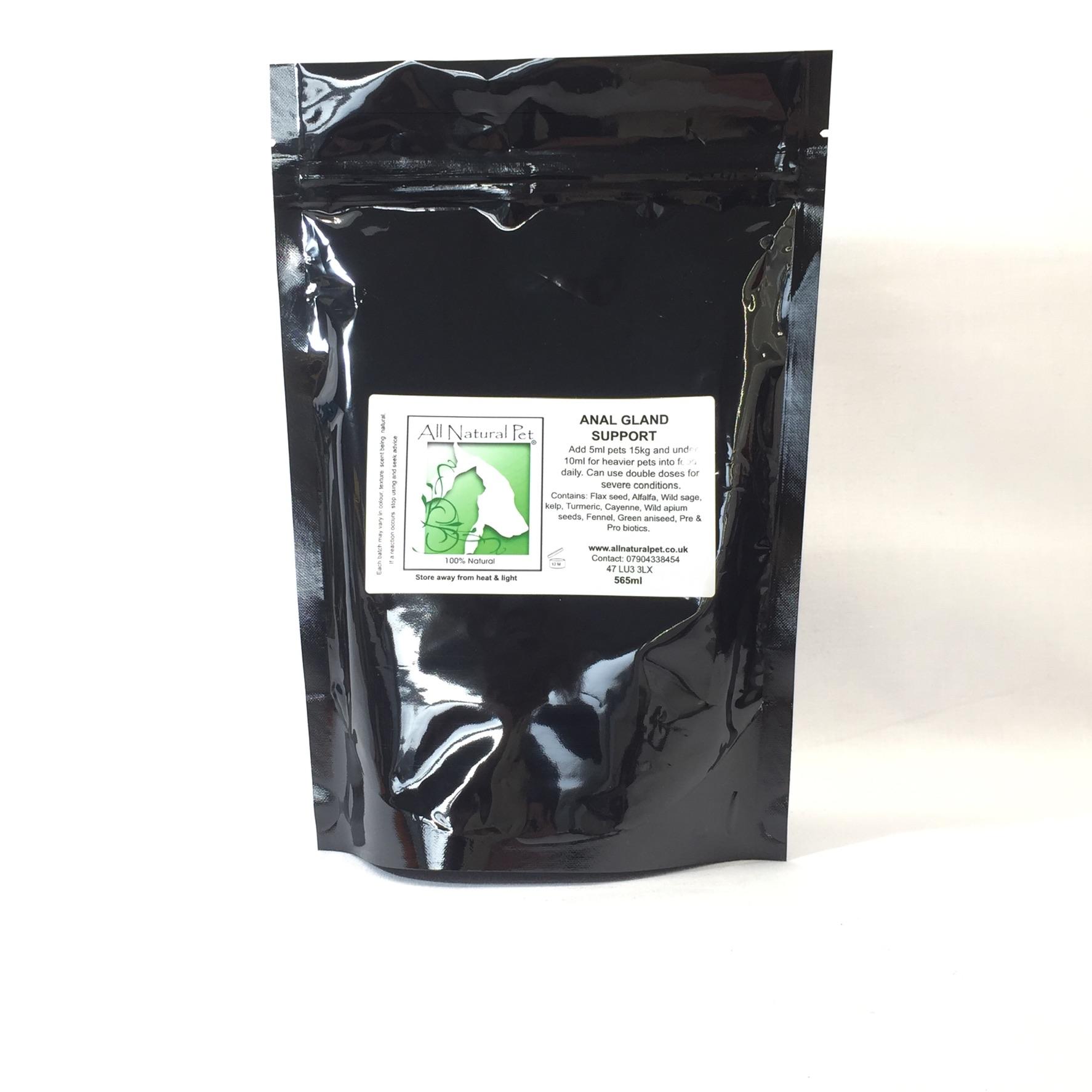 ANAL GLAND SUPPORT POWDERS 
A blend of natural Ingredients goes into these powders to support healthy anal gland function.
Typical signs of anal gland problems can be scooting their bottoms, Itchiness and nibbling paws, and trying to reach the back end, a distinctive strong fishy odour, and releasing their glands on furniture, carpets etc, the anus may also be red, swollen, 
Add specified amount to food daily.
 Ingredients- flaxseed, Alfalfa, wild sage, kelp, turmeric, cayenne, wild apium seeds, fennel, green aniseed, pre and pro biotic and digestive enzymes.
Give 5ml to pets 15kg and under, 10ml for heavier pets. Powders are measured in ml volume.  
Spoon is in the pouch.  Up to double amounts can be used Initially.
Prices start from  £15-50
Jackie Leach
OMG - this powder has been an absolute life saver for us!!! Oscar suffered terribly with his anal glands, resulting in virtually monthly vets appointments for them to be emptied, He was constantly uncomfortable. We tried everything and were out of our minds with worry. We were then told about Rayanna and this marvellous item. We thought we had nothing to lose and would give it a go. It was the best decision we have ever made. It has been brilliant. Since being on this powder, Oscar has only had to have his glands emptied once in two years. What a transformation. We wouldn't be without it for him now. And Rayanna is so helpful. Nothing is too much trouble and she is an absolute lifesaver!!! ⭐️⭐️⭐️⭐️⭐️
jane o' connell
When my pugalier kindly introduced me to anal gland issues I was shocked. Never had a dog with this problem before . The powders certainly helped & with raw feeding she (fingers crossed) hasn't had a problem for over a year. If it did return then I would buy the powders again.
Valerie Bayliss
This powder is magic, Cassie has not had any problem since using it (around 2 years) highly recommend it.
Caroline Rutherford
Since using this our wee buster is much more comfortable. An end to him scooting about on his wee bum
Gillian Findlay
Amazing product. Used this daily and found I didnt need to take to vet to get glands manually expressed.. Took to vet after 6 months of using them and told they were fine. If we get the fishy smell I just double up on the powders for a couple of days and glands express naturally. Still use once/twice weekly and have not had problem glands for months.
Jenna Tomlins
This stuff really works! Our Frenchie used to leak her Anal glands where ever she was! Whether that was on your lap, bed or in the car but that was used to
Isobel McGrory
Unfortunately this gave my dog severe diarrhoea, it must be the flax seed?? I had to take him to the Vet for treatment and have him fast for 24hrs. My Vet wasn't keen on the product, but could just be it didn't agree with his system.
Louise Elliott
Fantastic product, we double dosed for the first couple of weeks as our dog was at the point where he would have had to go to the vets to be expressed. I also supplemented this with Devils Claw for a couple of days as he was uncomfortable. I was worried that our dog wouldn't like the powder, he loves the taste, and the product has worked really well. He has been on another well known brand of anal gland supplements that didn't work and vets visits were still required. Would highly recommend this product it has really worked for us. Thank you Rayanna for your help and advice along the way.
Bridgette Riley
These powders are Wonderful !!! They have cured Dolly's Problem, so no more vet visits. Thank you Rayanna, what would we do without you.
Lynn campbell.
You came highly recommended to me by a facebook friend - All i can say is thank goodness me & my pooch Ruben found you. - he has suffered for years on & off with anal gland issues resulting in many trips to the vet , but since using your powder he is a diffrent dog . No more scooting & pain . Poo nice & firm - Result ! what a transformation . I am thrilled with this product & so is Ruben . Also would like to say thankyou for your advice & reassurance , nothing seems too much trouble . Such a refreshing change from some of the other sites.
Beverley Ayres
Before using this we had to make monthly trips to the vet to get them emptied. Since using this bow is certainly more comfortable and no more scooting across the floor. Very pleased with this product.
Sharon
Love this, it's been a life saver from that nasty anal gland smell! I use this for all 3 of my dogs but one in particular suffered a lot. To start with I used daily and now use every few days and it's settled.
Sue Tomlin
I've only recently started to use this product, as my dogs anal glands were full and the vet advised they needed expressing, that was not a route I wanted to go down, with Rayannas advice I used 10ml for a week and today her glands are empty, 8 days later! I'll continue with 5ml a day for a few weeks, but I'm just so pleased with this powder! Elsie loves the taste and devours the powders with her meal. Happy doggy mum and a more comfortable Elsie, I'm natural all the way with my dogs, and this is another product from All Natural Pet that saves more harsher remedies being given to my dogs that are safer and kinder for them