Anal Gland Powders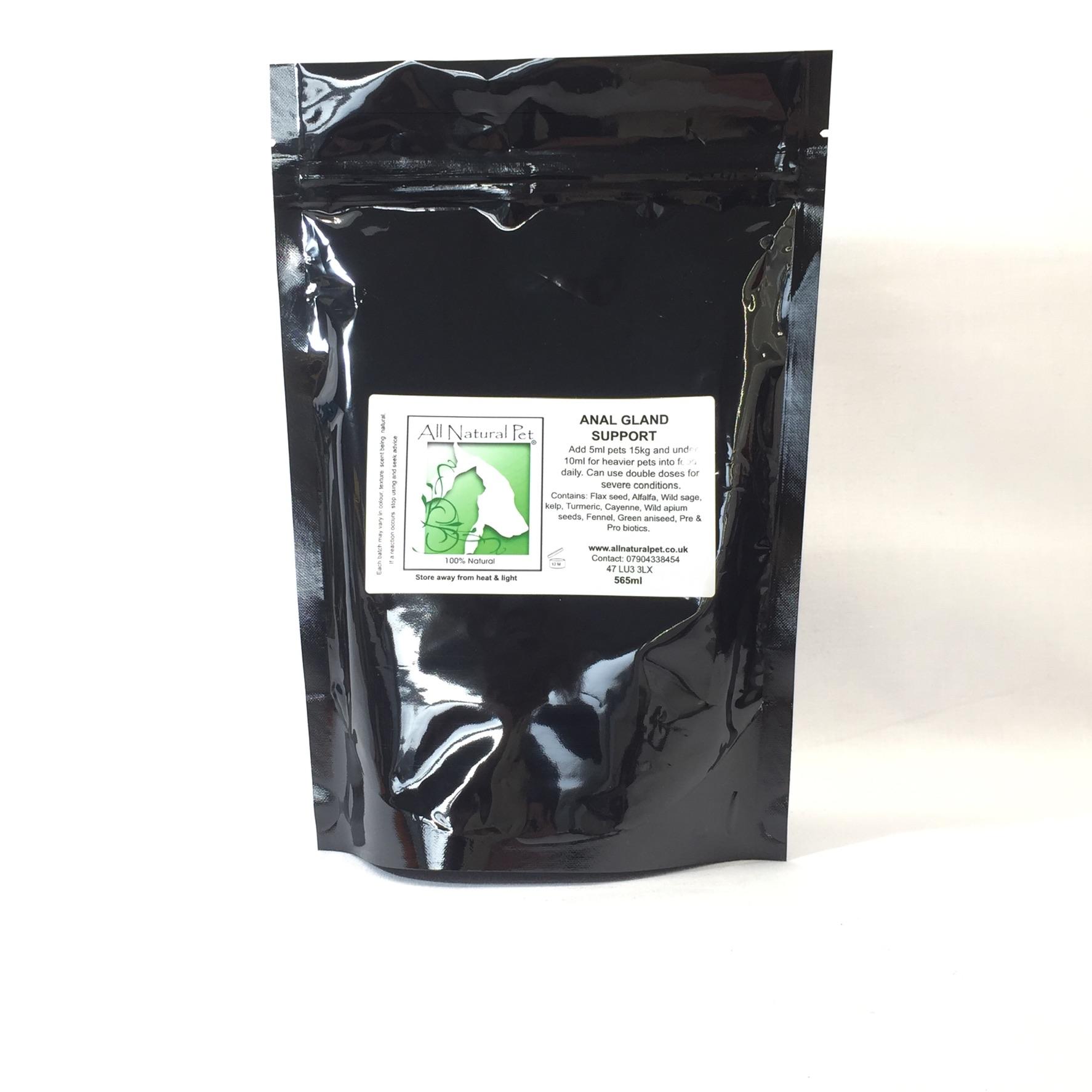 ANAL GLAND SUPPORT POWDERS 
Instructions for use:- Add specified amount to food daily.
To support the glands to empty themselves, and ease discomfort.
 Ingredients- flaxseed, Alfalfa, wild sage, kelp, turmeric, cayenne, wild apium seeds, fennel, green aniseed, pre and pro biotic and digestive enzymes.
Give 5ml to pets 15kg and under, 10ml for heavier pets. Powders are measured in volume. You Can give a double helping for severe problems for 7 days, then go back to normal amounts
Jackie Leach
OMG - this powder has been an absolute life saver for us!!! Oscar suffered terribly with his anal glands, resulting in virtually monthly vets appointments for them to be emptied, He was constantly uncomfortable. We tried everything and were out of our minds with worry. We were then told about Rayanna and this marvellous item. We thought we had nothing to lose and would give it a go. It was the best decision we have ever made. It has been brilliant. Since being on this powder, Oscar has only had to have his glands emptied once in two years. What a transformation. We wouldn't be without it for him now. And Rayanna is so helpful. Nothing is too much trouble and she is an absolute lifesaver!!! ⭐️⭐️⭐️⭐️⭐️
jane o' connell
When my pugalier kindly introduced me to anal gland issues I was shocked. Never had a dog with this problem before . The powders certainly helped & with raw feeding she (fingers crossed) hasn't had a problem for over a year. If it did return then I would buy the powders again.
Valerie Bayliss
This powder is magic, Cassie has not had any problem since using it (around 2 years) highly recommend it.
Caroline Rutherford
Since using this our wee buster is much more comfortable. An end to him scooting about on his wee bum
Gillian Findlay
Amazing product. Used this daily and found I didnt need to take to vet to get glands manually expressed.. Took to vet after 6 months of using them and told they were fine. If we get the fishy smell I just double up on the powders for a couple of days and glands express naturally. Still use once/twice weekly and have not had problem glands for months.
Jenna Tomlins
This stuff really works! Our Frenchie used to leak her Anal glands where ever she was! Whether that was on your lap, bed or in the car but that was used to
Isobel McGrory
Unfortunately this gave my dog severe diarrhoea, it must be the flax seed?? I had to take him to the Vet for treatment and have him fast for 24hrs. My Vet wasn't keen on the product, but could just be it didn't agree with his system.