Devils Claw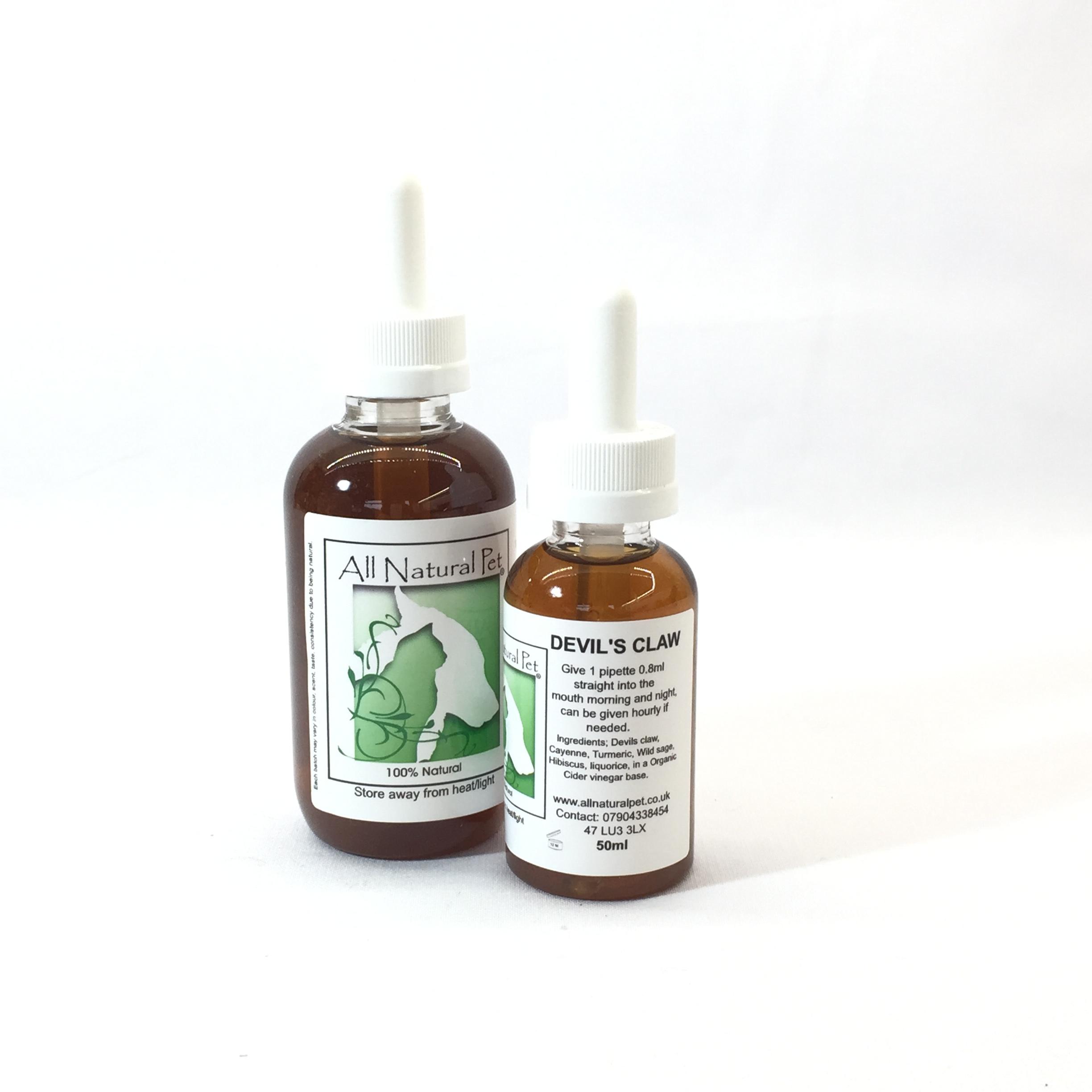 Devils Claw
Universal for Pets and Humans
Instructions for use :- Give one pipette ( 0.8ml ) morning & evening,  can be given hourly if needed, and up to 5 pipettes can be used on large animals and humans.
To  assist in supporting ligaments, tendons and joints as an aid to reducing stiffness and help with mobility.
Contains- Devils claw, Cayenne, Turmeric, Wild Sage, Hibiscus and liquorice in an organic cider vinegar base.
Store away from heat & Light
Lesley Tadman
The Devils Claw has helped my dog immensely, he is 12 years old and was getting very stiff after laying down and was suffering with intermittent lameness, since using the DC he is like a new dog, he loves going for walks now and has no more stiffness or lameness, can't recommend this product enough
Katie Lewis
Devils Claw is definitely the favourite going forward. This helps for any minor lumps and bumps whilst also helping for other major surgery work. For post hip surgery and post spinal surgery this was definitely my life saver. Rayanna was even to help me out with a different dose as to what was specified on the bottle following an incident on her walk. Top customer service and products. I literally do not need to shop anywhere else!
Lynnette jackson
Wouldn't be without this stuff it helps all 3 of my dogs. Great anti inflammatory. Easy to administer into the dogs mouth . Helps with lameness. Stiffness and a good all rounder for older dogs with joint problems .
T Raven
Excellent product
Helen Hasdell
Used the Devils Claw along side the Joint and Mobility powder for my elderly dog suffering with arthritis. What a difference it made to her. Would definitely recommend.
Jacqueline Rae
Cannot recommend devil's claw enough. My boy was 12 years old suffering from arthritis and also took seizures monthly. Without this product he would have been in agony and wouldn't have enjoyed his last year the way he did pain free. I now use this on my girl when required.
Caroline Rutherford
Helped ease a painful back. Rayanna deserves 5/5 as she is always so helpful and gives a lot of her time
Sharon Greenwood
Love this product. For my dogs and me!! Definitely works and I love the taste. Highly recommended pain killer x
Louise Ely
Used on a few occasions for sprains and after having a bad nail injury that needed removing at the vets. Fab product
Melanie Wood
Ordered some for our 19 year old girl back home. Bambi on ice we call her. Can't expect miracles at her age, her legs are failing her, but my god does she try her best to jump around with a rejuvenated spring. She gets the maximum dosage but only because of her age. Great stuff. Also used it after my little boy's TTT and ridgestop surgery to keep inflammation low
Gillian Findlay
This is an amazing product. Used on my dog after having major surgery and worked so well on his pain. Also used it hourly when my other dog snagged her claw which caused her toe to swell so much she could not weight bare.. After 6 hours she was able to walk on her paw again even tho swelling was still there.
Emma
This is brilliant to keep in pets first aid cupboard. Used on my Dalmatian and Greyhound very successfully.
Adele Thomas
We used this on our dog as she recovered from knee surgery. This aided her recovery and I'd recommend this to anyone.
Jackie Ginn
Amazing product used to support two elderly dogs with arthritis. I have not used Vet meds, although it can be used alongside. Safe to use long term and to administer top ups if necessary. My favourite product!
Gina
Brilliant product, I have a girl with arthritis and this keeps her pain free.
Jenna Tomlins
This stuff is amazing! Not only for my dogs it has helped me through back pain and a pulled muscle! This is a must in the medicine cabinet!
Sally Ann Orrin
Originally got this for my 17 YO Jackadoodle and he really benefits from it, last week I had two falls one badly sprained wrist and second one a possible cracked rib, I hate taking painkillers but had to then bought 250ml bottle and put a pipette under my tongue and held it as long as I could it has made such a difference to my pain levels really helps so now no Paracetamol or Ibprofen thank you for this wonderful natural help.
Lesley Lowe
A fantastic product that helps relieve pain in both animals and humans. My dog has tummy troubles and this helps her greatly. My husband has used it for back pain with good results too.
Jill Boys
So easy to use and we have noticed such a big difference for our bengal cat who's getting on in years just added to his food noticed him mobility a lot better
Sarah
I just wanted to say that this stuff is amazing - within 1 day our boy was back to his normal self! At 11 he is not as active as he was but this certainly helped a massive amount and I love the fact you can give more or less depending as needed - 100% worth trying!
Stacey cording
This stuff is amazing! My 4 year old dog has a pulled muscle/sprain in his front leg, I started him on this and after just one hour he was back on all four paws! It's certainly a product that shall now always be stocked in our doggy first aid cupboard. As always I have had lovely informative help when I had a query! Many thanks xx