Silver Cream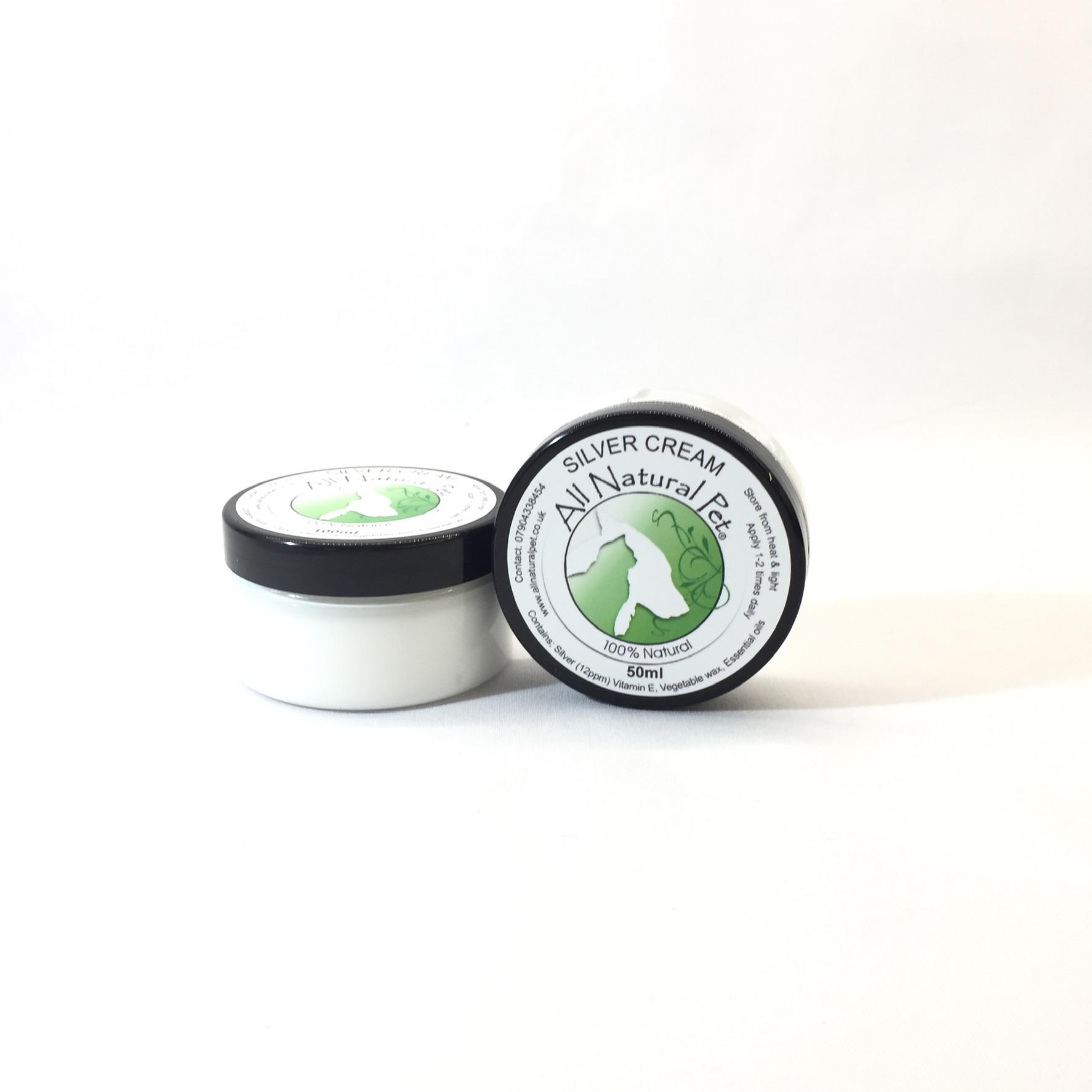 SILVER CREAM Colloidal silver 
Universal for Pets and Humans
Instructions for use:- Apply directly to area 2/3 times daily.
Colloidal Silver cream has long been used for centuries  anti-fungal, anti-bacterial an all round soothing cream.
Contains- Silver (12ppm),  vitamin e, vegetable wax, essential oils.
Store away from heat & Light
Shirley Graves
Wouldn't be without a tub of your silver cream. So many uses for both the dogs and grandchildren. It's a must have !
jane o' connell
Always have this in my cupboard. I use it on humans as well as my dogs. My daughter pinched 1 tub off me for her cats who had a weird skin problem.
Katie Lewis
The best cream out there on the market for Both us humans and pets. For any minor or major skin issue.
Anne Davies
Brilliant cream for wounds, cuts, grazes - for pets and humans! Helped a deep wound on my dog's neck to heal quickly and we always have a pot in the cupboard.
Catriona McMillan
I bought this for the dog to soothe razor burn following a bad grooming session. It worked really well and instantly gave her relief. Now, we use it for the humans too for any skin related issues.
Yvonne Dutton
This is so good, I wouldn't be without it. Great on the dogs, especially on one who gets hot spots. Great for us. I put some on a burn last week intending to apply twice a day but I forgot because the burn never hurt again and healed quickly!
Doreen Porter
Wonderful product, always have one Available, for just incase of cat bites, and wounds, heals up in no time. Plus saves a lot of money on vet Bill's!
Caroline Rutherford
Great cream has helped various skin problems on pets and I used it too.....great stuff
She Tomlin
This cream forms part of my first aid kit, wouldn't be without it
Hayley
Used this on rabbits sore hocks..1st time along with antibiotics from the vet. Second time we noticed a flare up and used just this product, was gone within days!
Donnalyn Dunn
It's just pure magic... My pet suffered with dermatitis from a bite and has seasonal allergies. She swelled and screeched for two days when injected with steroid from a vet.. This cream soothed and sorted her when I first used it within 3 days!!!!! I've used it since and same results,also smells divine. We use it too for bites or sore skin conditions.. I love that it's safe to ingest if my pet licks it too,another plus point.
Alison Rendell
A must have for humans & pets - a little pot of magic that works on so many skin conditions, wonderful for those pesky oven burns, bites and works fantastically on cold sores - smell great too
Jenna Tomlins
I use this for something practically every day! If I get dry hands I use it before bed as a hand cream. I use it on any wounds my dog gets (she's accident prone) my other half uses it when he cuts himself generally doing DIY or messing with a car. A brilliant cream!
Lesley Tadman
This is something I will never be without, it was a lifesaver when my dog had a very nasty hot spot, I applied the silver cream several times a day and the difference it made was unbelievable, it's a must have for any First Aid kit
Sarah
My Chihuahua had been nibbling at her leg making it red and sore, but as soon as I applied the cream she stopped and left it alone. Few days later and it has improved so much! No more red or irritated skin - amazing! And a must have product :-) I also love that it's natural, cruelty free and safe for pets.
Alison Rendell
This is a must have product - kept in the fridge it's so soothing. it's great on practically everything for humans - gnat bites, cold sores, small burns, paper cuts, grazes and so much more - great on the pupsters too - we each have a tub in the fridge and another one in work where everyone refers to it as my 'magic pot of cream'. If I could give it more than 5 stars I would
Jill Boys
Brilliant, given to 2 family members who had operations to help the healing process of the stitches they found they healed so much better, I always have a pot in the fridge for people and pets
Denise Shepherd
I am using it on my husband as he has shingles and has taken the itch out of the blisters. And the red rash is slowly disappearing
Yvonne Dutton
We have our own name for this cream in our house. Magic Cream. Use it for cuts rashes burns hotspots for us and the furries. Wouldn't be without Silver Cream or SilverTincture.