Silver Tincture ( colloidal silver)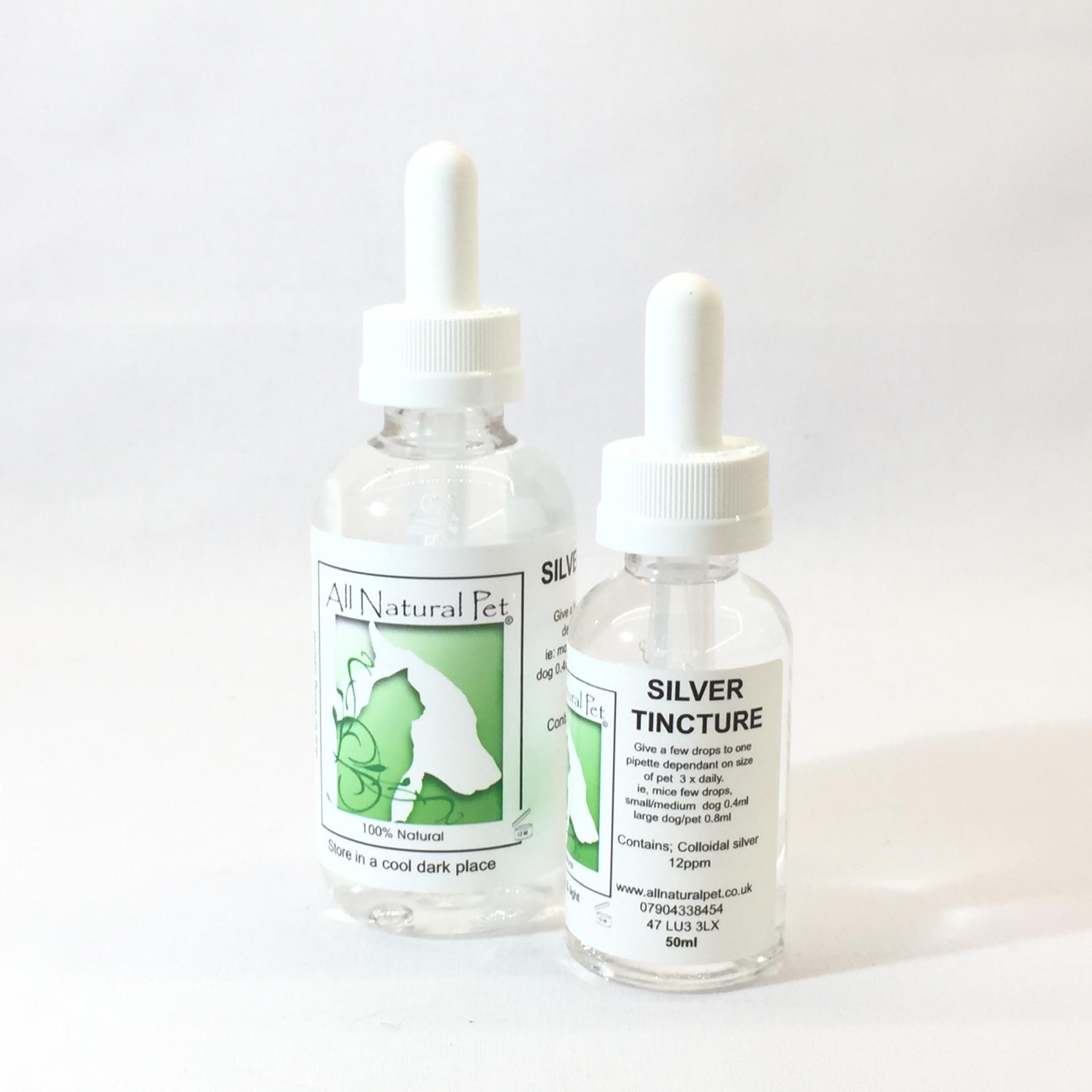 SILVER TINCTURE/SPRAY - (colloidal silver)
Universal for Pets and Humans
An age old remedy to help support the Immune system, and to use topically on skin problems.
Store away from heat & Light Give from a few drops to one pipette ( dependent on pet size ) 3 times daily. Straight in the  mouth or in food.
Can also be used topically as a spray.
Contains - Colloidal silver 12ppm  (a colloid consisting of silver particles suspended in liquid) 
store away from heat & light.
Prices start from  £7-00
jane o' connell
I use this as a support if I feel poorly. Have also applied topically on a cold sore .
T Raven
Excellent product
JAKKI RAE
Love this amazing product!! I used this on my old boy and my puppy. My old boy Glen used to get gum infections and this was the only product that worked. When my girl mishka got dressed she took a wee while to heal then had a wee infection on her cut where her stitches were and this product cleared it up in a few days. Highly recommend to anyone.
Gillian Findlay
I use this for everything alongside Rayanna's other natural products. Use it as an internal support and spray it onto wounds or rashes.
Jenna Tomlins
Amazing! I use this to clean wounds on both dog and human. I take it daily and so do my dogs! It also makes an excellent mouth wash if you're having any dental treatment or suffer with ulcers!
Marian Smith
My dog had an abcsess which wouldnt clear until I tried this in just 3 days I saw an improvement and after a week almost gone, brilliant stuff
Yvonne Dutton
One of my Shih Tzu's Megs is prone to hotspots. Silver Tincture is fabulous at dealing with them. Clears them up within hours. It can also be given orally in place of the antibiotic injections so many vets are over fond of giving.We also use it for all sorts of things along with the silver cream. Rashes, cuts, Burns. They cure them all. I wouldn't be without these two products for us and the doggies.
Evonne
Omg I don't know what I would do without my silver cream and spray. Great on my Newfoundland dog, heals her hot spot so quickly. I use it on myself for dry and sore hands with washing them so much also use spay it in my mouth for ulcers ⭐️⭐️⭐️⭐️⭐️ Would highly recommend