Quassia Spray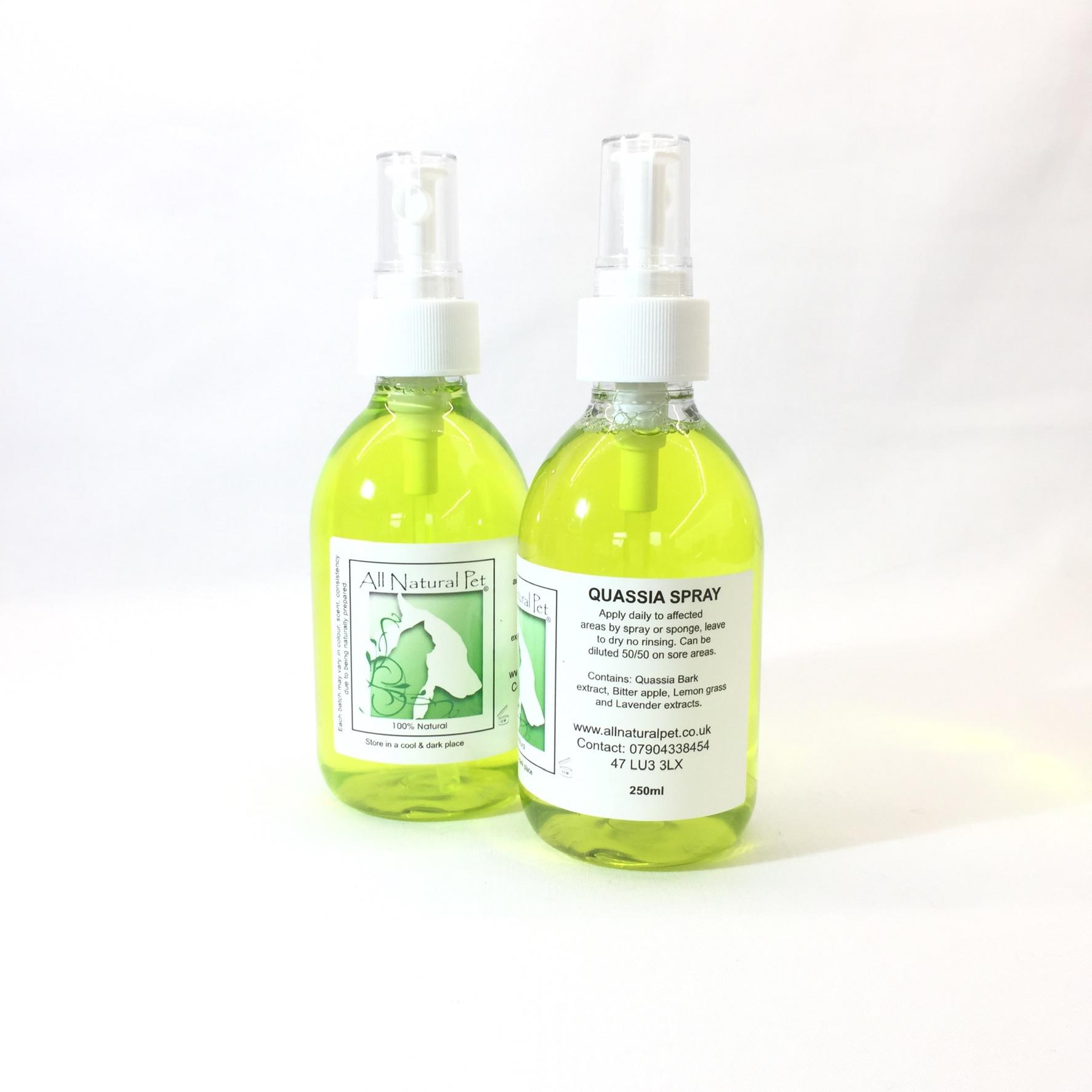 QUASSIA SPRAY 
A natural soothing  spray to help with itchy, sensitive, problem skins, the herbal ingredients can support conditions like Hotspots, flea allergy symptoms, lick Granola, Sweet Itch( Equine) Mange symptoms etc
 Works well alongside the Quassia shampoo and conditioner.
Contains- Aqueous Quassia Bark extract, Bitter Apple extract, Lavender and Lemon grass extracts.
Spray and massage onto the skin, 1-3 times daily, do not rinse.
If your pet doesn't like  sprays, apply with a  sponge.

Avoid spraying near the eyes,
Prices start from £15.00
Yvonne Dutton
One of my Shih Tzu Megs itched her way through summer last year. The Quassia spray was like a miracle cure on her. I was so pleased that poor Megs was out of her misery but cross with myself that I hadn't used it before. It will always be in stock in my house now.
T Raven
Used along with the shampoo worked really well
Caroline Rutherford
Use this along with shampoo and on its own too. Great for relieving itchy paws and helped with dry skin too.
Gillian Findlay
I use this alongside the matching shampoo. Helps ease the scratching inbetween washes. Wouldn't be without it.
Deborah Beavers
Had been using originally diluted as it seemed to strong for my Shepherd's skin. Now using it neat and it seems to be helping. Will definitely be using again
Sarah
Our female always has a scratching few months the same time every year - as have not worked out what it is other than outside! Gave this a whirl sprayed it on and brushed it in whilst laid in garden and she didn't scratch that night at all!! Instant response - we have had to re-dose once or twice but very impressed at the speed it worked!
Marguerite
My shihtzu suffers from seasonal itchy skin & chewy feet , used with a sponge works amazing. Definitely recommend.
L O'Connor
Cannot recommend this product enough, our dog is so sensitive and gets an itchy red belly and I couldn't believe the difference in 24 hours! Also used on my cat where she had broken skin and hair loss, again Quassia worked wonders! You will not regret buying this product.